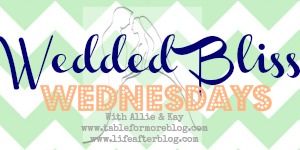 click the image above to go connect with others and participate too!
Today I'm linking up with Allie & Kay for Wedded Bliss Wednesday! This is my first time participating in this link up since I just started blogging again! As soon as I heard of this link up I knew I had to get involved because marriage is something that I am extremely passionate about and have very strong beliefs about! So, lets get onto this weeks questions!!
1. What is/will be your husband's best trait as a father?
Jayce is a really caring person. He is 100% committed in everything he does. He makes parenting completely 50/50 which is how we believe it should be, so having him be so involved makes it so nice and I think our kids will be able to look back on their childhood and have both parents in all of their memories which a lot of people don't get because the father was always working to provide for the family--which is understandable I'm just glad our kids won't deal with that.
2. What is/will be your husband's favorite thing to do with the kids?
Jayce looooves to play with Maddux! He likes to play anything sports but his favorite thing and Maddux's is when Jayce gets him (tickles and kisses him) Maddux is so obsessed with this that a few times a day Maddux will just lay down on the ground and say "get, get" which obviously means he's telling Jayce to get him! It's the cutest thing for a mom to watch!
3. How does/will your husband help out with the kids?
Jayce is really hands on. I normally don't need to ask him to do things he just does it! Jayce only works Friday-Sunday so he is home all week with us which is a huge help! He is best at occupying Maddux while I get things done around the house or cook!
4. What do you hope your children learn from their dad?
I love the person Jayce is he is simply the best person I know! He had a different childhood so he knew from a young age what kind of person an parent he wanted to be and he has became that and so much more! I want to see Jayce in all aspects of my kids! He is a very passionate and responsible person but nothing is better than his fun loving personality!